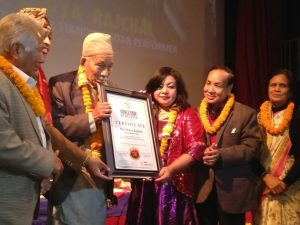 The UKNFS is delighted to share that our UKNFS Nepal arts programme (NIAP) Ambassador for Nepali Instrumental Music*, and international level award-winning teacher Sita Maiya Rachal ji has been accorded the title "Worlds First Female Standing Sitar Performer" by the World Book of Records.  Sita reflects the globally important brilliancy of the Nepali musical, performing, visual and broader Nepali arts community and the UKNFS is particularly proud of her magnificent well deserved accomplishment of this award.
* NIAP link: http://creativenepal.co.uk/sita-maiya-rajchal-international-teacher-ambassador-for-nepali-instrumental-music/
Sita had the certificate bestowed on her by Senior Litterateur Satya Mohan Joshi, officials of World Book of Records and dignitaries from the Music Industry of Nepal, with felicitations expressed by Shree Santosh Shukla (President, World Book of Records).
Some news links: https://english.himalayapost.com/2019/04/07/sita-maiya-created-world-records-became-worlds-first-female-standing-sitar-performer/   and https://hangamatoday.com/2488-2/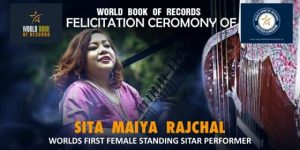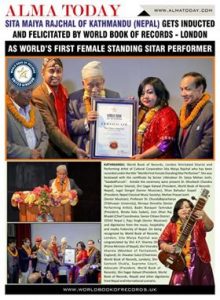 I was moved when I learned the news of Sita receiving this exceptional recognition. I was privileged to first meet Sita ji in the summer of 2013 when the UKNFS, considering initiating a Nepali arts educational and international promotion section (subsequently launched as the NIAP 'Nepal International arts Programme' (www.creativenepal.co.uk : this launched subsequently played the part of key UK enabling partner with the Nepal Art Council on a joint initiative to commemorate the Nepal – UK Bicentenary*) had a formal visit to the famous Lalit Kala Campus, KTM. Sita's passion for the musical arts through her exceptional internationally recognised gifts with the Sitar are matched by passion for the musical arts, including their key spiritual dimension which extends to music therapy, where Sita is foremost practitioner in Nepal and beyond. All at the UKNFS are so proud of Sita's great accomplishment, recognised by the World Book of Records!
UKNFS CEO Alan Mercel-Sanca
* https://uknfs.org/april-2017-update-launch-of-the-nepal-art-council-uknfs-nepal-uk-bicentenary-exhibition/