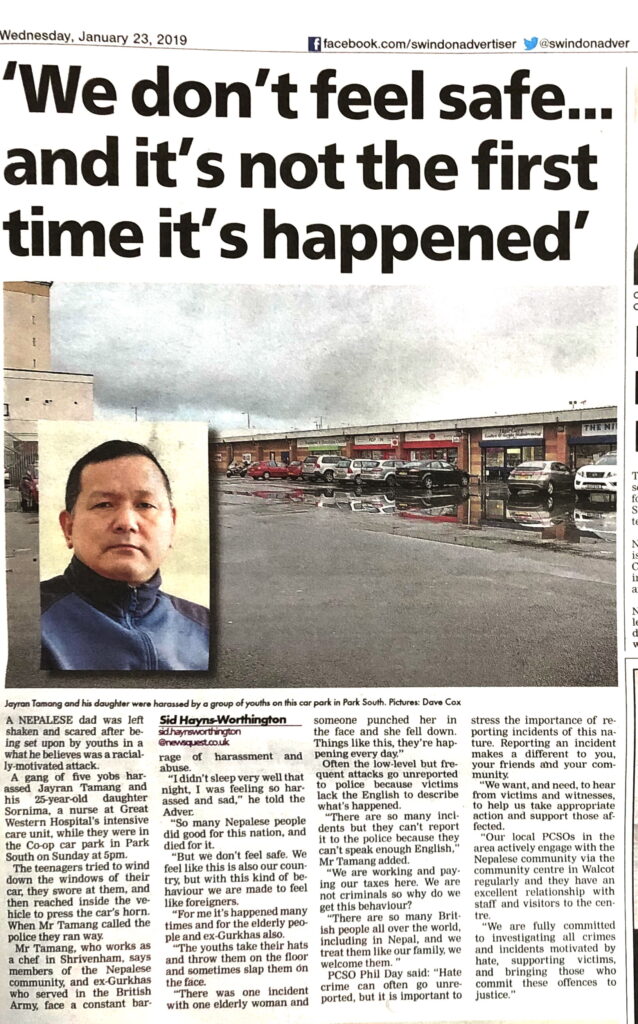 At the beginning of February this year, UKNFS CEO Alan Mercel-Sanca received an urgent call from UKNFS Board Member, President of the Federation of Nepali Journalists UK (FNJUK), Naresh Khapangi Magar. This regarding the extreme and completely unacceptable experience of an FNJUK member, Jay Ram ji, of racist anti-Nepali / anti-Gurkha Anti-Social Behaviour (ASB) by elements of Swindon youth against him and as it quickly became apparent through Swindon Advertiser news articles, against many members, generally of the Swindon Nepali community. The request from Naresh ji was, as nobody else had been able to — could the UKNFS take action?? We did.
With feeling of shock and unhappiness that all of the authorities, had in the experience of our Nepali community in Swindon, no strategy, awareness, or perceived real demonstrable interest in the suffering community members, including former British Army soldiers, the Gurkhas, at the hands and mouths of what was kindly by the community still regarded as just a very small disaffected percentage of the local British majority population, youth subverted by racist ideology.
The UKNFS took as its first action, contacting in a group email all organisations (Wiltshire Police, Swindon Council, the CPS, etc.) with responsibility for or a direct interest in reporting and counteracting ASB, and also elected figures such as the council leader, local MP, local councillors, doing so with the supportive awareness of the Swindon Nepali-Gurkha community, particularly the Nepalese Association of Wiltshire (NAW), whose General Secretary Manju Rana ji and association Chair we have been working closely with, resulting in strong very effective NAW lead for the community on the actions that we have been the catalyst and facilitator for.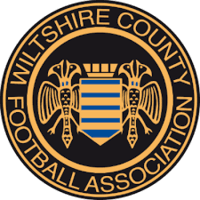 Thanks to an introduction from Equality lead Kevin Coleman at English FA (Wembley) we also contacted Wiltshire FA's CEO, Oliver Selfe, with a view to seeing how football could be a platform through which greater inclusion and profiling of diverse communities (particularly BAME: Black And Minority Ethnic) could be achieved. 
We salute Wiltshire FA and its CEO, and in conjunction Swindon Town FC, who have worked shoulder to shoulder with Wiltshire FA and our Swindon & Wiltshire Nepali community in taking all forward so successfully. This in ways that have extended far beyond our Nepali-Gurkha community that had at the beginning of the year in Swindon felt isolated and unwelcome because of lack of focused action by those public service and local government organisations with responsibility for counteracting racist ASB and supporting those targeted by young local racists.
As a result of our interventions and guidance across the range of organisations detailed above (and others) we are delighted to, as 2019 approaches its conclusion we are delighted to share the following in terms of what our interventions in support of our Swindon Nepali community has accomplished:
Exceptional support from Wiltshire Police that has coordinated support (recorded in email to the UKNFS) for 8 officers to provide dedicated support to the Swindon Nepali community on anti-ASB
Swindon Council recruiting two dedicated new officers from the town's Nepali community to support to the Nepali community regarding impacts on the latter caused by racist ASB
Wiltshire FA: creation and development of an 'Inclusion Advisory Group' (IAG) in response to the racist anti-Nepali-Gurkha ASB phenomenon represented by the UKNFS. As the IAG's first major action, a diversity in football festival was successfully planned and delivered, with strong support by the NAW that is a member of the Wiltshire FA IAG. This festival has accomplished major breakthroughs in terms of broader South Asian and ethnic minority community engagement