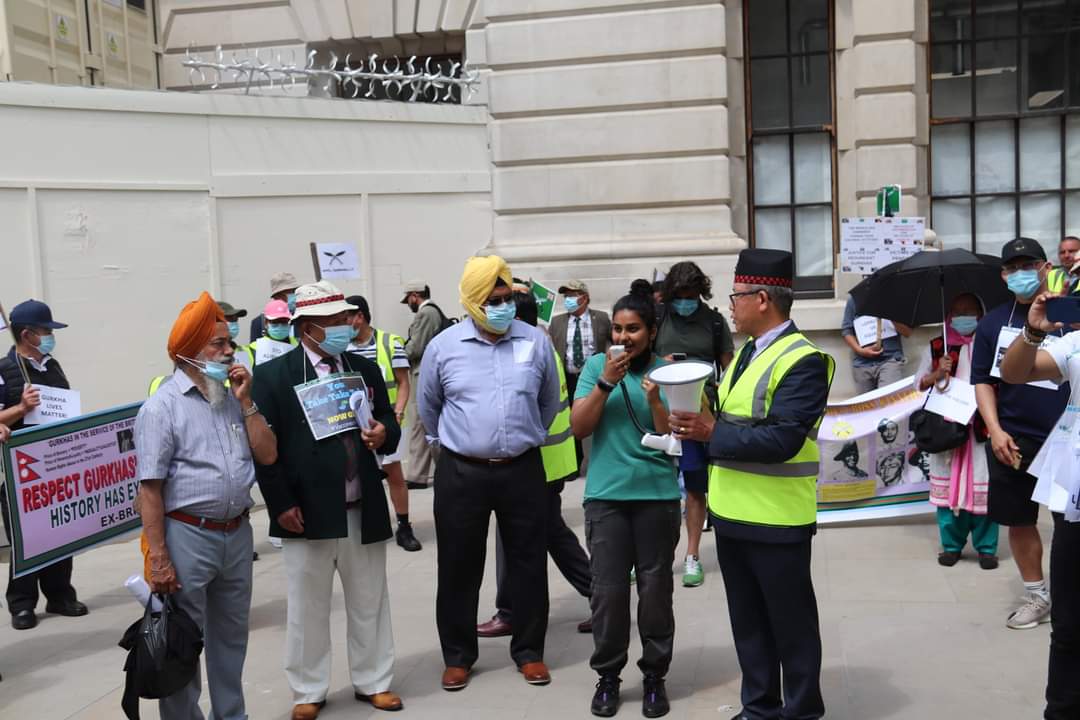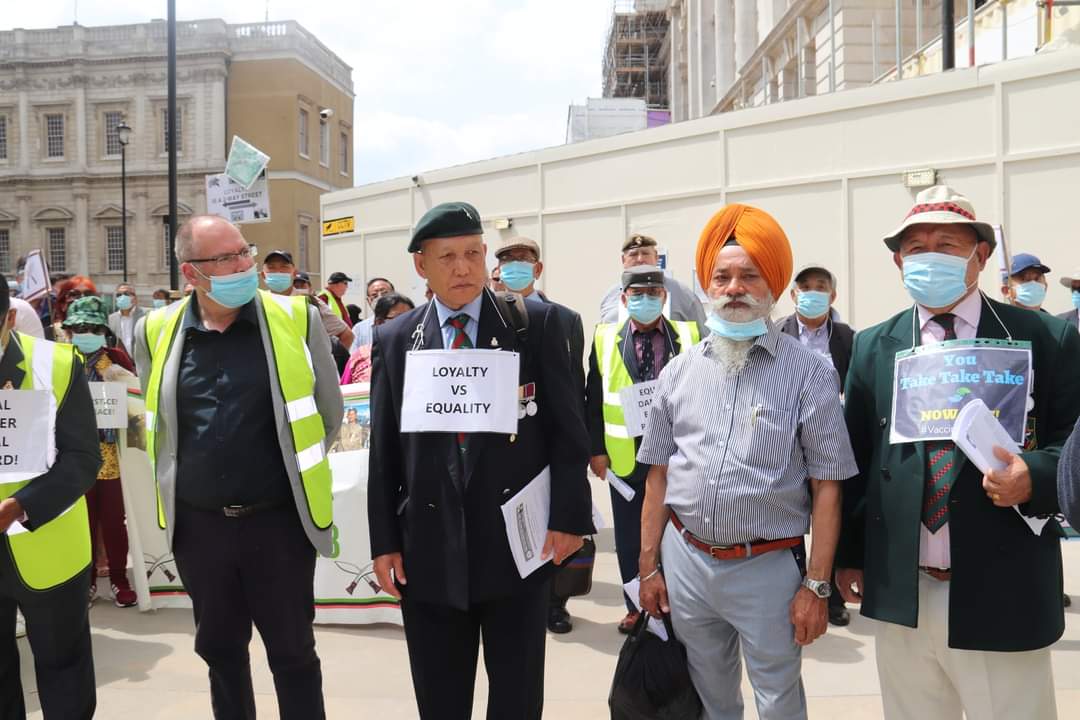 The UK Nepal Friendship Society is honoured to be standing shoulder to shoulder with our Gurkha community and Gurkha families as they seek a final resolution on the very serious Gurkha pensions and Gurkha rights issues and longstanding injustices.
The UKNFS is proud to be supporting the Gurkha Satyagraha (led by former Sgt Major and veteran Gurkha rights campaigner Mr Gyanraj Rai) campaign for the resolution of these major issues and an effective investigation into the historic to contemporary injustices referred to, and we are providing unequivocal solidarity with Gurkha Satyagraha on the 1st July hunger strike initiative that has so sadly been forced by the lamentable performance of the UK Government department (MoD) on such an important matter.
We hope and trust that H.M. Government (Ministers and especially Whitehall/Civil Service officials) will see the justice of resolving the matter in advance of the 1st July, and thereby potentially saving Gurkha lives and making a start on repairing the serious harm caused by the dispute to the British name.
Above and below we provide some images from the 15th July rally, march and demonstration in Whitehall and Parliament Square, where the event concluded with important speeches by Gurkha Satyagraha, Gurkha and British veterans, and also from Mr Balwinder Singh on behalf of the Sikh Community, and UKNFS CEO Alan Mercel-Sanca.
The Sikh Community representatives — Mr Balwinder Singh Chahal and Mr Bhapoor Singh from the Southampton Sikh community and Council of Southampton Gurdwara's — presence made this very important event doubly historic as it marked the uniting of the two principal martial peoples of South Asian in the face of injustice.
This standing shoulder to shoulder of our Sikh community with our Gurkha community with the former unequivocally supporting the latter also prefigures both communities seeking at last proper reflection of their unique contributions to British history and especially to the current very poor quality British military history record on Gurkhas, Sikhs, and broader BAME Commonwealth communities.
In the mid stage of the rally event, the organisers, Gurkha Satyagraha also requested the Sikh community representatives to Mr Bhapoor and Mr Balwinder to lead on laying the second wreath at the Cenotaph.
Above centre, Alan Mercel-Sanca, prepares to lay a wreath at the request of Gurkha Satyagraha and the hunger strikers, at the foot of the plinth of the Gurkha Memorial (located opposite to the MoD Building). Alan described this as the most humbling honour he had ever experienced: a minute's silence was held after the wreath laying as all present held in mind the Gurkha heroes who had sacrificed their lives over the two World Wars and broader 206 years Nepal – British history.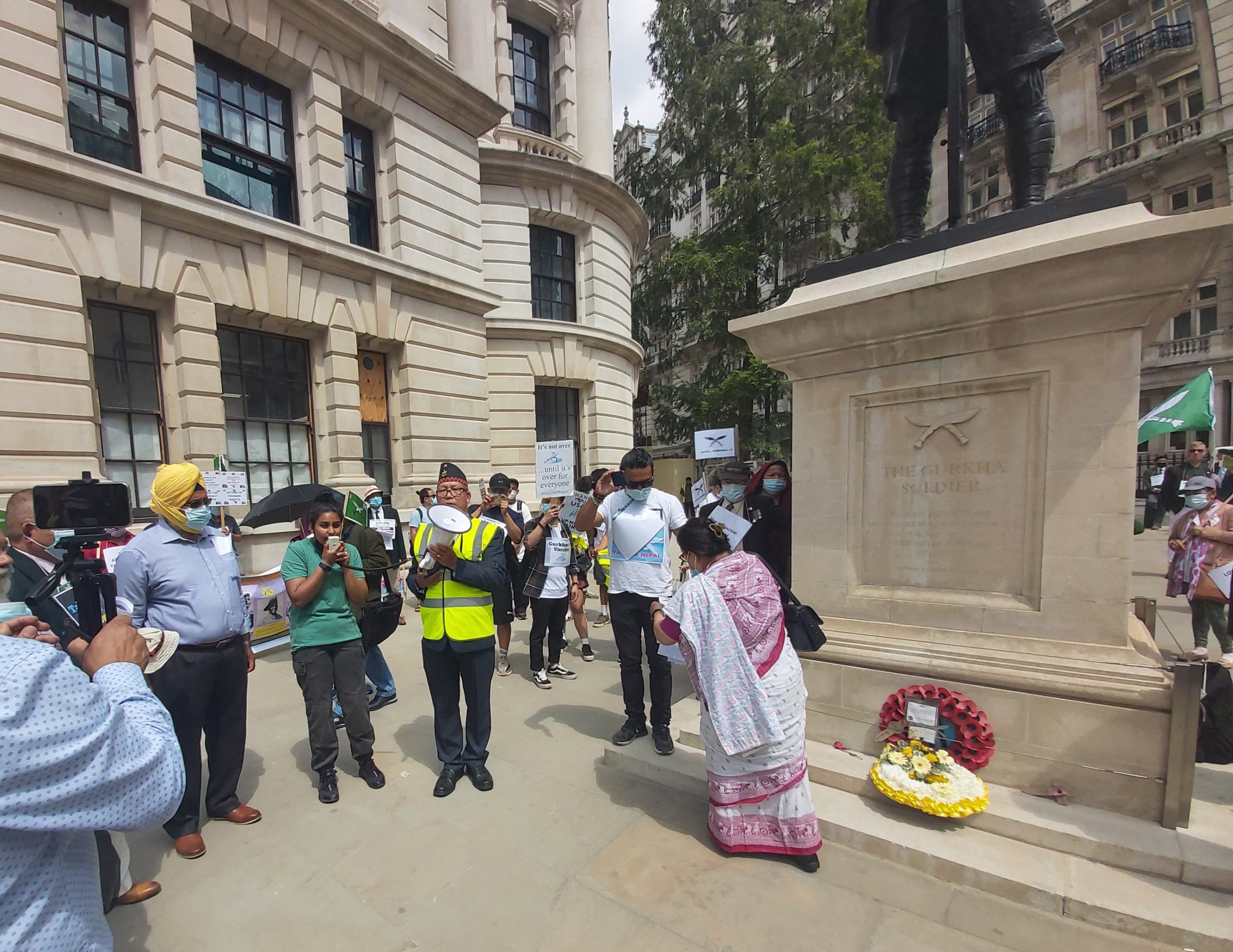 Above centre left, Ms Ria Patel, Co-Lead of Greens of Colour (of the UK Green Party) gives the first speech of the rally: to right of Ms Patel, Mr Dhan Bahadur Gurung of Gurkha Satyagraha, one of the three hunger strikers.