Shared extensively in UK Nepali and Nepal news media, we are delighted to provide this update on the 5th December 2018 NRNA UK led, UKNFS facilitated petition delegation to the UK Prime Minister / 10 Downing Street, regarding formal representation of the need for a dedicated Nepali entry on the UK Census 2021.
The image below from this historic occasion features NRNA UK President Mr Yog Kumar Phagami, UKNFS CEO Mr Alan Mercel-Sanca, Mr Jib Belbase, President of the Greater Rushmoor Nepali Community, The Honorable Mr Leo Docherty MP, (Aldershot constituency), Mr Min Bahadur Gurung  (Sahara UK President and UKNFS Board Member), Cllr David Clifford (Leader of Rushmoor Borough Council), Mrs Poonam Gurung (Vice President, NRNA UK). We were delighted that on the occasion of presenting the petition, the Rt Hon Gavin Williamson MP (Secretary of State for Defence) was visiting Downing Street and was very pleased to join the group photo and associate with the cause of the petition.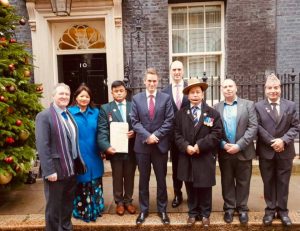 The purpose of the petition is an important one and the NRNA UK, UKNFS and indeed all our UK Nepali community organisations feel the case for the Census inclusion, compelling & unanswerable. Here we provide a link to the NRNA letter on Nepali Entry on 2021 Census, and also to the UKNFS led supportive evidence — Need for Census entry data and notes.
Some news links on the petition in the global Nepali and South Asian news media:
http://www.sitalpatinews.com/post/2205
https://www.kantipurdaily.com/diaspora/2018/12/06/154409017181612392.html
http://www.nepalbritain.com/?p=47483&fbclid=IwAR0hUTiMfLCgnJaP1mvFetR7j7VOBeifRJYR2cPCdCu9ITixk4Oa7snWJOA